Come and meet our new Business Development Manger – Wayne Loftus –  at this exciting exhibition. He will be more than willing to discuss all your manufacturing needs.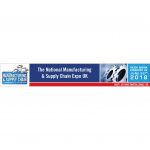 Electrical enclosures – Stainless steel or Mild steel
Posted By: John Weller
On: 11th May 2018
---
Electrical enclosures – Stainless steel or Mild steel
Design and manufacture
We work closely with our clients to ensure the end product is exactly what they envisaged at the beginning of the process. Whether it's a large Incomer enclosure to a small Consumer unit we can manufacture it all in-house.
Material
Enclosures are manufactured from steel – Stainless (304 & 316), Galvanized, Zintec or mild depending on the application.
Finish
There are a number of options available depending on the base material of the enclosure.
There are many options with Stainless steel enclosure, from leaving in Mill finish to elctro-polishing.  With mild steel enclosures, powder coating is the preferred finish.
Examples
CDS Van
Posted By: John Weller
On: 20th April 2018
---
Has anyone spotted our van recently?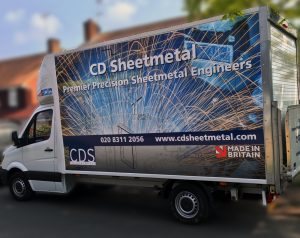 NO MATTER HOW BIG OR SMALL – CD SHEETMETAL CAN DELIVER TO YOUR EXACT REQUIREMENTS
Posted By: John Weller
On: 22nd February 2018
---
CALL OUR CUSTOMER SERVICE TEAM OR OUR SALES TEAM ON 020 8311 2056 OR E MAIL ADMIN@CDSHEETMETAL.COM
Metal microscope slide cabinets
Posted By: John Weller
On: 5th September 2017
---
Our microscope slides cabinets have been designed to house large quantities of microscope slides in a small amount of space.  These cabinets are stackable to ensure maximum use of your footprint, ensuring that you can expand your collection as and when the time comes.
Although the cabinets are primarily used for microscope slides, they are also perfect for storing ancient coins and stamps.
Our cabinets are hermetically sealed to guard against such things as the ingress of dust, bugs and the museum beetle for example.
Even though these cabinets are compact, you may not have the space to site a full stack, if this is the case you could always place them on top of an existing cupboard or unit.
Combining an all metal construction and the use of high quality components such as hinges, handles, seals etc., these cabinets are built to last and will serve you well for years to come.
The size of a cabinet is 698mm (w) x 565mm (d) x 600mm (h), there are 2 configurations available –
9mm internal height drawer – 76 drawers per cabinet
15mm internal height drawer – 54 drawers per cabinet
A plinth can be supplied which is 75mm high.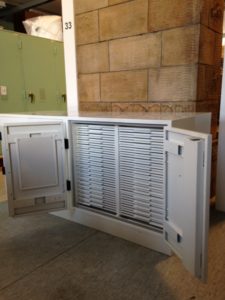 Established, invested and here to produce high quality products for you
Posted By: John Weller
On: 25th August 2017
---
ESTABLISHED SINCE 1973 WE HAVE CONTINUALLY GROWN AND INVESTED IN OUR MACHINES AND OUR STAFF TO PRODUCE CONSISTENTLY HIGH QUALITY PRODUCTS.
We're back, ready for your enquiry….
Posted By: John Weller
On: 9th August 2017
---
After our annual 2 week summer shutdown, we are back up and running ready for your next enquiry.
Storage solutions for bespoke office furniture
Posted By: John Weller
On: 12th July 2017
---
We are often asked to design bespoke specials that are based around our standard product in order to  meet a clients requirement.
Here are three examples that we have recently designed and manufactured –
2 Drawer mobile side filer –
This unit was designed around a brief that required a storage unit that was mobile, lockable and have heavy duty drawers.
With that in mind, we based the design around a standard side filer.  The base was reinforced to accommodate the four castors which were positioned at each corner and added counter balance weights to give maximum stability.
Along with increasing the material thickness, the drawers were re-designed to ensure the additional storage weight would not cause any issues.  At the same time, heavy duty runners were specified.
10 Drawer, 2 door cupboard – 
On this particular unit, the client required a lockable drawer unit to house electronic modules. So we took a standard two door cupboard and re-designed it to accept ten drawers.  New inner panels were made to take the soft closing runners. Although not shown in the picture, anti-static rubber mats were fitted to each drawer to protect the electronic modules that were being housed in them.
2 Door 'Loom' storage cupboard –
The design brief for this cupboard was simple, "I need a cupboard to store complete sets of parts that are ready for assembly". These parts included some wiring looms, electrical components and small sub-assemblies. With this in mind, we took the design of a two door tall cupboard, re-designed the rear panel to allow the fitment of hanging arms. The cupboard was also supplied with three adjustable shelves. The client was able to hang his looms over the hanging arms and layout his components on the shelves as he needed.
Coming soon………….Full details on our latest project
Posted By: John Weller
On: 28th April 2017
---
In the coming weeks we will publish a full case study for this project, but in the meantime these pictures  give a slight insight of what's to come.
The sheer size and magnitude of the project was always going to have a drain on our resources, but as ever we battled through it. With over 3 months in the design office, many hundreds of hours on the shop floor, over 500 fixings and fasteners, we manged to exceed everyone's expectations.
We have just delivered 35 units to the client, everyone is so pleased with the overall result.
Have a good Bank Holiday weekend
New project – New challenges
Posted By: John Weller
On: 3rd February 2017
---
Well, here we are at the early stages of a very exciting project, one that has set some challenges for us here at CDS.  But as ever, we are thinking outside the box to give the client what he envisaged.
Take for example this panel, we needed to produce a corner bend with a large radii.  Not having the correct diameter tool our shop foreman used his initiative and made his own, simple but effective.
Now that we can bend the panel, it's a simple task of adding threaded studs using our Pemserter machine.  On this panel alone there are 21 studs in 4 different sizes.
Now that this panel is complete it can be welded to a number of other panels to form a small sub-assembly. This sub-assembly will then be put together with other panels/assemblies to make a complete unit. More details and pictures as this project evolves.